Dapheny Fain, Executive Assistant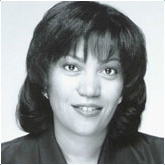 Dapheny Fain, an East Texas native was born in Palestine, Texas. She received a Bachelor's of Science degree in Organizational Management from Paul Quinn College. Dapheny has 26 years of combined administrative and planning experience, including organizational structure, specials events coordination, public service and relations, business competencies in management, reviewing program proposals, marketing and sales, proficiencies in personal computers (hardware and software), graphics layout, design and typesetting.
Ms. Fain is the Executive Assistant to Dallas County Commissioner John Wiley Price, beginning in 1995 as his secretary. She started her business career in 1978, while in high school, as a Tax Clerk at the Anderson County Tax Assessor-Collector. During her four years at the County, she was offered and accepted a position with an oilfield company, Dowell Schlumberger, as a District Clerk. During her five year tenure at Dowell, Dapheny again was offered and accepted a position with Texas Power & Light Company as a engineering secretary. Ms. Fain worked for the TP&L until transferring to Dallas in 1989 to work for their subsidiary, Texas Utilities, advancing then to TU Services as a Computer Specialist. After 8 years with the company, Dapheny accepted a position with EDS Technical Products as a Hardware/Software Configuration Clerk. Seeking to explore other career goals, she became the Operations Manager at Independent Satellite, until reaching her current employment with Dallas County in 1994 at the Dallas County Elections Department, advancing one year later to become a member of Commissioner Price's team.
Dapheny is the Vice President of KwanzaaFest, Inc., President of the William Paul Quinn Alumni Chapter, Scholarship co-chair for the Concerned Desoto Citizens, member of the Dallas County Elections Advisory Board, Chair of the John Wiley Price Student Assistant Fund which contributes to low income college students for books, tuition, or special needs, and a number of other community/political organizations.